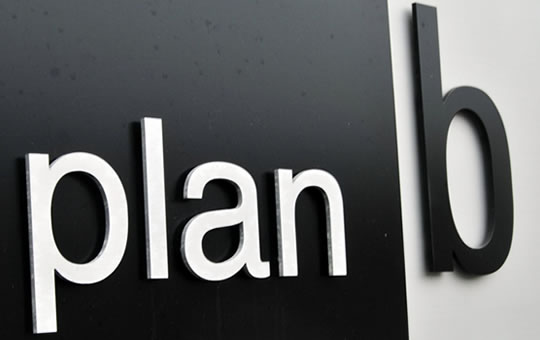 Why backup plans (sometimes) motivate, even if you never use them.
Before reading a new article in the Journal of Personality and Social Psychology, I never thought of a backup plan as something that might be motivating in itself.
Surely all the benefit of a backup plan accrues when the main plan goes wrong and there's something to fall back on?


While coming up with a 'plan b' might be necessary, I always thought of it more as a chore. (Ho-hum now I've made my main plan, instead of getting started, I've got to spend more time thinking about an alternative plan).
But when you start to think about it, backup plans don't just make sense as, well, backup plans, but also as a means of driving you forward at the precarious early stages of a project.


That's because our motivation to succeed is heavily tied in with our expectations of success. No one drives to a shop that they are pretty sure is closed. What feeds our motivation is knowing that we have a good chance of achieving the goal.


It sounds obvious but it leads to a non-obvious conclusion. It means that a little more time spent thinking about a backup plan or alternative ways to get where you're going will help you, even if you never have to actually use them.


Opportunity drives motivation


A new study demonstrates this nicely using a coffee shop customer loyalty programme (Huang & Zhang, 2013).


Participants were told they had to get a card stamped six times to get a free coffee. One group in the study, though, was manipulated into thinking that they had more ways of collecting stamps than the other group. So, some people thought there were more ways of reaching their goal than others.
Again: actually there weren't more ways of getting stamps—the experimenters were trying to remove the better known advantage of a backup plan (that you might need to use it) and just look at the effects on motivation of thinking there are more ways to achieve your goal.


What they found was that those who thought there were more alternatives for collecting the loyalty stamps were almost twice as likely to join the programme.


They also checked this out in different contexts and got the same results again and again. When people thought there were more opportunities to donate blood, write reviews of movies, or memorise word lists, they demonstrated more motivation.


Backfiring backup plans


Backup plans, then, can sometimes have a motivating effect, but not always; there is a twist in the tail.


What about when you're half-way through your project or towards that goal of yours? You're starting to feel very confident that you will get there. What kind of effect do more alternatives for reaching your goal have then?


When Huang and Zhang looked at this, they found the effect reversed.


When people already had five stamps on their loyalty card, more ways to get the sixth and final one actually de-motivated them. Similarly when people thought the blood drive had almost reached its target, rather than being right at the beginning, fewer options lowered their motivation to donate.


This might seem a little strange, but it chimes with other research that has looked at the psychology of choices. Generally speaking, choices are more pleasurable at the beginning of a project. But once we're on the road to success, options go from being a pleasure to a pain.


So backup plans, or alternative means of achieving our goals, start out reassuring, but end up as distractions.


This means that the use of options in motivation should be arranged like a funnel. At the start (the wide end), more options pump up initial motivation; but later on, when success is all but assured, options slow us down. Once the end is in sight (the narrow end), it's far better to forget about backup plans and push on for victory.


Just the same is true when motivating others: give people options to get them interested at the start, but towards the end, they should be reduced to avoid distraction.


About the author


Psychologist, Jeremy Dean, PhD is the founder and author of PsyBlog. He holds a doctorate in psychology from University College London and two other advanced degrees in psychology.


He has been writing about scientific research on PsyBlog since 2004. He is also the author of the book "Making Habits, Breaking Habits" (Da Capo, 2003) and several ebooks.

SOURCE: PSYBLOG